BACK TO OUR PROPERTIES
DOMUS CIVITA
in Civita di Bagnoregio, Lazio, Italy
Details & Amenities
Town villa with 3 bedrooms suites & 3 private bathrooms
Accommodates 6 in king and queen size beds + 2 in twin beds
Fireplace & central heat
Washer/dryer & dishwasher
Microwave, espresso machine, gas stove, oven, toaster oven
Ceiling fans, hair dryers, iron/board
Wi fi internet, Mp3, Tv & dvd player
Books and games
Private wine cellar in ancient cave
Heated Pool and Hot tub
Private garden with Gazebo, outdoor lounge and dining table for 8,
Breathtaking views
Outdoor BBQ & full kitchen
Maid service 3 times x week. More upon request.

Children welcome
NOT wheelchair accesible
NO smoking. NO pets
Location

The house is located in the town of Civita di Bagnoregio on one of the highest points, the old Etruscan acropolis. Civita is located in the northern most corner of the Lazio region at the border of Tuscany and Umbria. See Map below.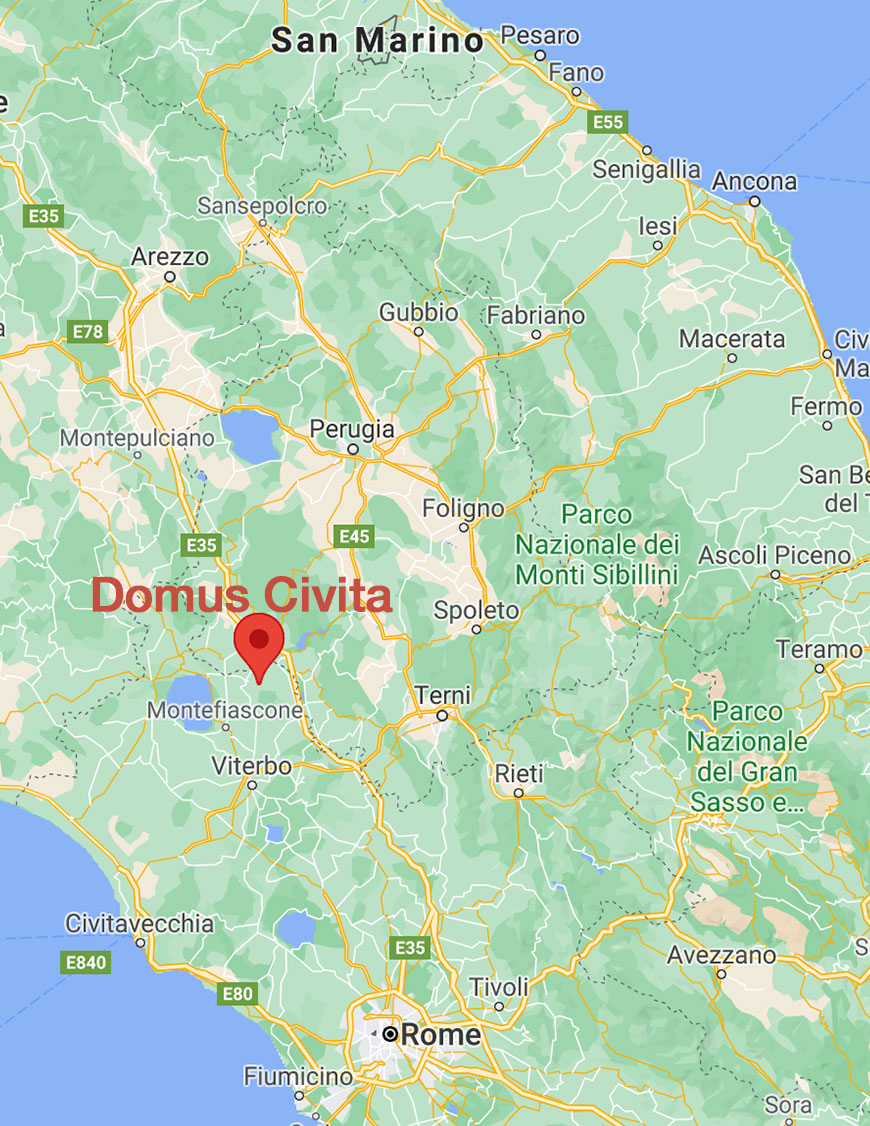 To arrive at the foot of Civita di Bagnoregio is to discover a place that until then only existed in dreams: the ultimate Italian Hill town preserved by a rich and splendid history and by the love of its current inhabitants. Entering the old town by walking over its footbridge and going through its Etruscan gateway is like stepping back in time 600 years to rediscover the beauty i and peace of a different way of life. The town appears almost made of gold and silver - the gold of the tufa rock of its cliffs and houses, the silver of its basalt paved streets. Like a jewel that was eroded by time only to preserve its most beautiful core, Civita will transport you to a place of wonder and poetry, close to the incredible history of man's tenacity and vision, to nature's endurance and labor of love. Civita's most illustrious citizen, the philosopher Saint Bonaventure, once said "sentiment penetrates where intelligence does not reach"and the town in many ways represents just that...a place to get lost in, beyond our understanding of it. We believe that Civita is one of the most noble and beautiful places on earth and by restoring a small piece of it we wanted to partake of the magic that enticed us when we first fell in love with it. The restoration of Domus Civita was first of all an homage to a town that survived earthquakes and landslides, war and famine, and found its rightful place in our modern world; and, secondly an attempt to provide a unique experience of serenity, beauty and respite for the discerning traveler and lover of Italy.
Rates & Availability

The house is available on a weekly basis from Saturday to Saturday, year round, and for long weekends in low & shoulder seasons. Please submit your reservation request and we will confirm availability and price. Rates are inclusive of house cleaning, all utilities, Wi-Fi, bed linens, all towels including pool towels, soaps, detergents, bathroom amenities. House and pool heating are not included in low & shoulder season. Rates listed are for occupancy of 6. Fees apply for 2 extra people in twin beds.



HIGH SEASON weekly rate: $5,950

MID SEASON weekly rate: $5,250

SHOULDER SEASON weekly rate: $4,750

LOW SEASON weekly rate: $3,650



To reserve we require a signed contract and payment of 50% of rental. Balance due will be owed 4 weeks before rental begins. A refundable security deposit of $1,000 is due before rental begins. Payments can be made with credit card or money transfer.a


Renter is responsible for maintaning the house, the grounds and the pool in good condition and should report any problems on site to owner or owner's agent.
Activities & Attractions
Countryside, town & city sightseeing
Culture, history, archeology
Lake boat tours (Bolsena)
Lake canoeing, sailing, swimming
Biking & Hiking
Golf club at 40 Km

A few recommended itineraries & places to visit nearby.
Orvieto (20 min.): Etruscan & Roman archeological sites, 12th century gothic cathedral, medieval quarter, shopping, great restaurants.

Bolsena and surroundings: (15 min.): Historic town of Bolsena, fishing village of Marta, Montefiascone as well as Lake activities and boat tours.

Todi & Spoleto (40 min.): beautiful medieval and renaissance churches, unique natural settings, charming streets and excellent museums.

Historic Gardens (20-40 min.): Villa Lante, Bomarzo, Caprarola and Vignanello are all unique historic gardens and villas of great beauty.

Extra Services
Self catered & catered property
Concierge services
Personal chef and cook
Grocery shopping
Cooking class by Michelin star chef
Wedding planning
Driver available
Art and Archeo tours
Wine tours with and w/out driver
Wine and cheese tastings
Private massages
Baby sitter

We would be happy to help you with the planning of your stay at Domus Civita and to organize any other services not listed above.

Fees apply in the case of wedding planning and based on the scope of the event and size of the party.

To rent a car visit www.autoeurope.com