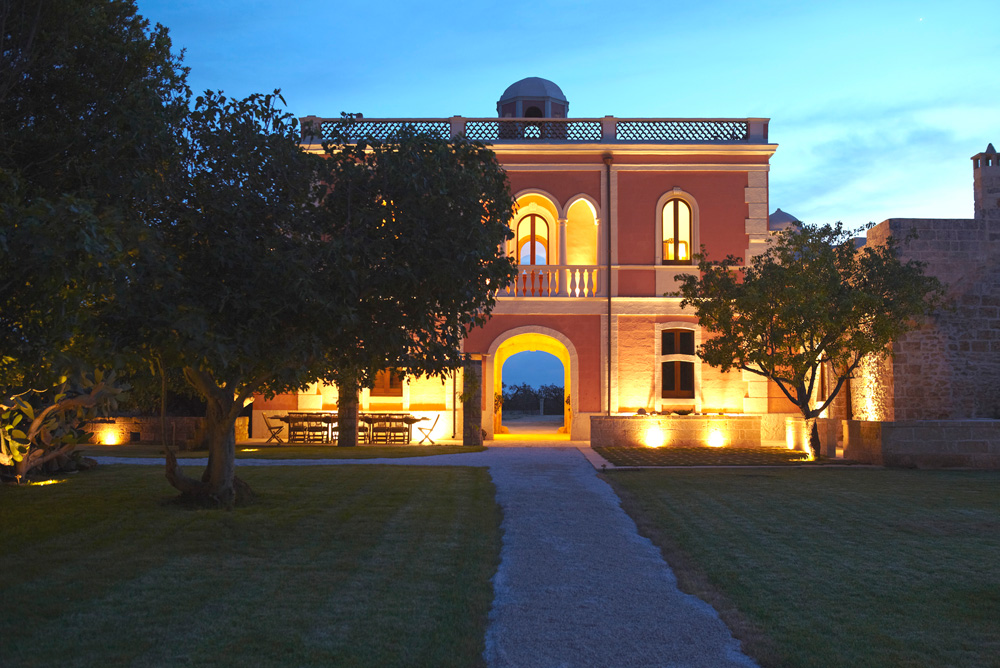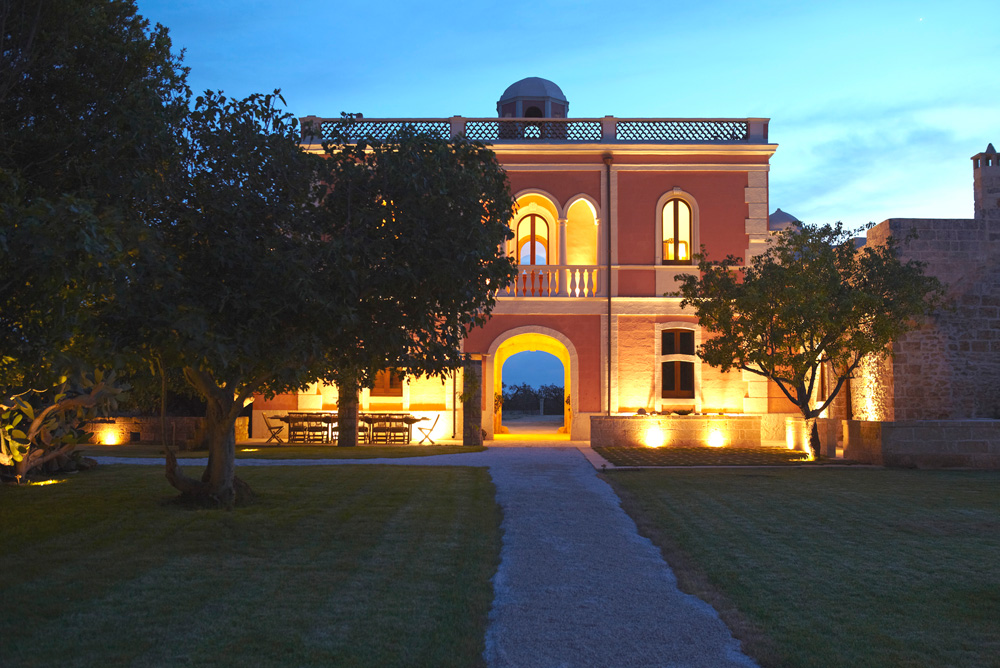 BACK TO OUR PROPERTIES
PIZZORUSSO
Near Mesagne, Puglia, Italy
Details & Amenities
Country villa with 6 bedrooms suites with queen size beds, 6 bathrooms, 4 en suite
Accomodates 12 people + 2 extra in sofa beds if needed
3 Fireplaces
Laundry room
Microwave, dishwasher, coffee maker, gas stove, oven, toaster oven
Crib and high chair for children
AC in bedrooms, hair dryers, iron/board
Wi fi internet, stereo, Tv & dvd player
Books and games, study & media room
Large Pool
Private garden with pergola and dining for 16, outdoor lounge, terrace, walled in courtyard, vegetable garden
Outdoor wood burning oven
Maid service 2 hours daily.

Parking, Children welcome
Wheelchair accesible
NO smoking. pets on request
Location

The house is located in the countryside near the town of Mesagne in Puglia, Italy. Conveniently located close to some of the best cities and sites of this beautiful region. The closest airports are Brindisi and Bari. See Map below.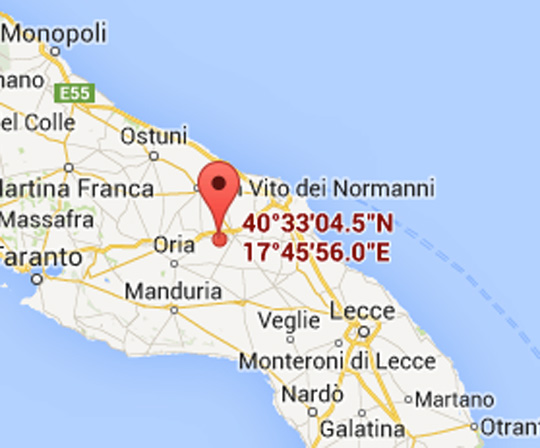 Villa Pizzorusso is a historic fortified farm estate, masseria, located in the southern italian region of Puglia, the heel of the boot. The estate is situated next to the Via Appia Antica, the old Appian Way, which connected Rome to Brindisi, and set amidst olive groves, on 15 acres of cultivated wheat fields. Just five minutes from the towns of Mesagne and Latiano. Both towns have wine and olive oil coops, butchers, bakeries, cheese shops with mozzarella and ricotta made on the premises daily, local fruit and vegetable vendors, open air markets, cafes, restaurants. Villa Pizzorusso had been abandoned for over 50 years, when its restoration began around 2005 by its current owners, a Puglia native and an American. Its historical integrity has been preserved and integrated with modern design elements and amenities. The result is a harmonious blend of elegance and history. The oldest sections of Pizzorusso date to the 1500s and an owner's wing was added in the early 1800s with Moorish and neo-classic design elements including the five cupolas, floor tile work, frescoed ceilings, and grand arched entry and windows. These elements give Villa Pizzorusso its current character. Villa Pizzorusso is central to many of Puglia's top destinations. Within an hour of the stunning baroque city of Lecce; the white "Greek" city of Ostuni; Martina Franca, the trulli of Alberobello; the beautiful seaside city of Otranto with its distinctive cathedral, the undergound caves of Castellana Grotte; beaches on both the Adriatic and Ionian Seas.
Rates & Availability

The house is avaiable on a weekly basis from Saturday to Saturday, year round, Please submit your reservation request and we will confirm availability. Rates are inclusive of gas, water, electricity, daily cleaning, bed linens, all towels including pool towels, soaps, detergents. Rates do not include winter heating and AC. Rates are for occupancy of 12 to 14 people max.



HIGH SEASON weekly rate: $11,500

MID SEASON weekly rate: $11,500

SHOULDER SEASON weekly rate: $7,900

LOW SEASON weekly rate: $5,200


To reserve we require a signed contract and payment of 50% of rental. Balance due will be owed 6 weeks before rental begins. A refundable security deposit of $2,000 or 1,500 euros is due before rental begins. Payments can be made with credit card, check or money transfer.


Renter is responsible for maintaning the house, the grounds and the pool in good condition and should report any problems on site to owner or owner's agent.
Activities & Attractions
Countryside, town/city sightseeing
Culture, history, archeology
Closest beach at 25 km
Tennis courts nearby
Italian lessons
Biking
Hiking
Golf club at 65 Km (in Fasano)

A few recommended itineraries & places to visit nearby.
Lecce (40 min.): Unique baroque architecture and famous cathedral, roman amphitheaters, piazzas with cafes, shopping, great restaurants.

Ostuni (25 min.): Beautiful "white" town close to the coast of the Adriatic sea, with unique churches, great vistas. medieval winding streets.

Alberobello (50 min.): Unique town with high concentartion of Trulli, typical conic shaped roof houses indigenous of the region.

Torre Guaceto Beach (25 min.): a protected marine rerseve and beach on the Adriatic sea.

Extra Services
Self catered & catered property
Concierge services
Personal chef and cook
Grocery shopping
Wedding planning
Cooking classes
Driver available
Art and Archeo tours
Baby sitter

We would be happy to help you with the planning of your stay at Villa Pizzorusso and to organize any other services not listed above.

Fees apply in the case of wedding planning and based on the scope of the event and size of the party.

To rent a car visit www.autoeurope.com